About Our Sales Gallery in Central
We opened this venue in response to the strong demand by our clients and the general public of Hong Kong to invest in overseas properties
Location, location, location
Situated in a highly prime location in the heart of Central, our venue is on the UG/Floor of Winway Building on 50 Wellington Street – a stone's throw away from Lan Kwai Fong, Soho and Central MTR Station (Pedder Street Exit D2).
Jade Land's Gallery & Event Space
Our sales gallery is a new addition to our existing 7/Floor office space within Winway Building in Central. It is our very own spacious 1,400 sq.ft. private venue to host clients and distinguished guests alike. It is a versatile open-plan space that easily transforms according to our company and our client's needs, whether it be to host an exhibition, seminar, private consultation, dinner, cocktail reception and more!
Wellington Street-Facing LED Advertisement Screens
Wellington Street-facing LED screens have been installed for the purpose of video advertising, such that passerby's can see our developer-appointed projects.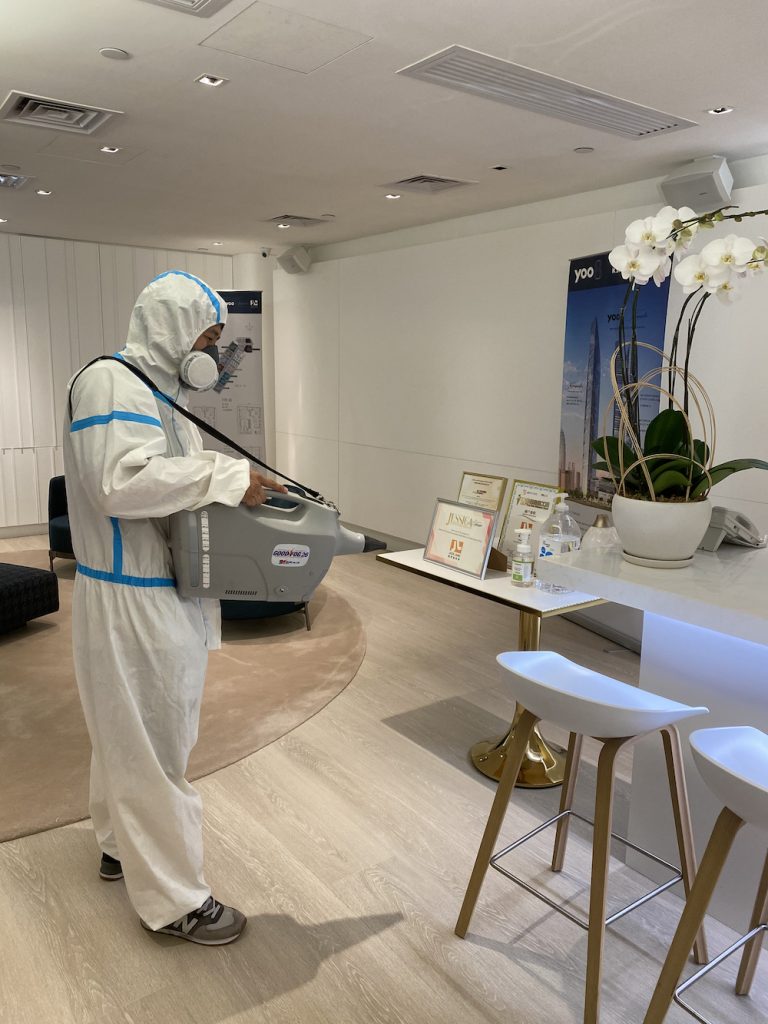 As a covid-19 prevention measure, we complete full disinfection of our event space and back office on a monthly basis, utilising Hygisoft – a Finnish multi-purpose disinfectant that instantly kill 99.9% of viruses and bacteria. It is non-toxic and non-irritating to the skin.
The effects of the product lasts for 30 days. In addition, we have installed medical grade air-purifiers ("Perfect Particulates Purification PPP Air Purifier) at all of our premises.
Clean business environment
The Hong Kong people have long had a culture of mask-wearing, and it is the general consensus of the public to take overwhelming personal precautions in preventing the spread of covid. Strict adherence to mask-wearing is the norm. Thus, our clients need to be reassured that they can rest well in our premises and that our staff have their safety in mind.
Disinfection stations are positioned at the entrances of our administrative office and sales gallery where clients can clean themselves with alcohol scrubs, and our staff can record their temperatures with infrared thermometers. Standard government-issued covid history forms are recorded online with the client's own smartphone by scanning a QR code. We regularly perform routine surface-level disinfection with Hygisoft, an antimicrobial and antiviral surface coating, after assessment of vulnerable areas. Professional disinfection of these areas such as the openings of air-conditioning units, vents and door handles are completed on a weekly basis. Finally, we have purchased several air purifying units which have CADR accreditation according to the ANSI/AHAM AC1 quality standards of air purification. These units are frequently deployed in hospital intensive care areas and have a proven track record.
All visitors undergo mandatory temperature checks and face masks are available on demand. The safety of our clients and our team is our top priority. Feel free to contact us for one-one-one private previews of our properties by appointment only at our event space. Stay strong everybody!